Coming Together for Children Conference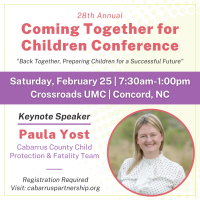 From February 25, 2023 7:30 am until February 25, 2023 1:00 pm
"Back Together, Preparing Children for a Successful Future"
The 28th annual Coming Together for Children Conference is for early education professionals from Cabarrus, Stanly and surrounding Counties. Parents are also welcome. The conference will feature exciting workshops, outstanding presenters, agencies, vendors, and light refreshments.
Date/Time: Saturday, February 25, 2023 | 7:30am-1:00pm
Location: Crossroads UMC | 220 George W. Liles Pkwy NW, Concord, NC 28027
---
Who is invited?
Early childhood educators in Cabarrus, Stanly, and surrounding counties are invited to attend. This includes programs serving children birth through age 8, all day or part day, licensed or unregulated. The invitation is extended to all parents and foster parents of children ages 0 to 5 years of age.
Breakfast
All participants are invited to enjoy a light breakfast (coffee, juice, pastries, fruit) as part of their conference registration fee. Lunch is not provided.
Exhibits
Exhibits will open at 7:30 AM and close at 11:15 AM. Exhibits are located in the Gymnasium. Look for signs. Please take time to visit each vendor and agency. There will be a lot of information and resources for you to take home.
Registration
Registration Deadline: February 3, 2023
Registration Fee is $20.00
Late Registration Fee: $25.00 (February 6 - 17, 2023)
On-site Registration Fee: $35.00 with limited workshop selection.
No refunds after February 17, 2023. Requests for refunds must be received in writing to CTFC Coalition and postmarked by February 16, 2023. Please allow approximately three to five weeks for processing. "No Shows" will NOT be given any kind of refund.