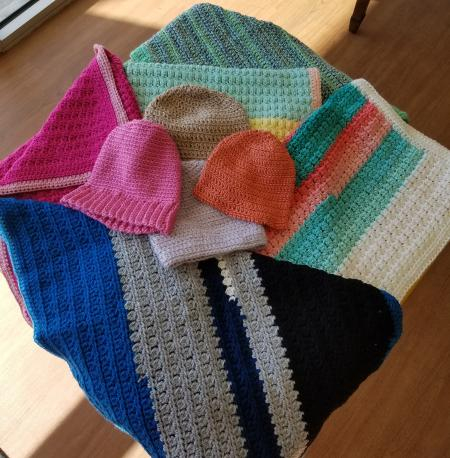 Donate Yarn for a Great Cause
By Lyne Goode, Cabarrus Partnership for Children
Isn't it amazing how life throws people at you when you need them the most?
We are beginning our Cuddle Up Coat Drive this month, and I was at the Kannapolis Library dropping off a collection box. As I walked back to my car, a woman named Liz stopped me to ask about the coat donation box she had seen me carrying in. She explained that her mom, Linda, had crocheted a bag full of beautiful baby blankets and hats for children and wondered if the Partnership could use them. I took them with a heartfelt thank you and couldn't wait to return to the office with a bag full of love. As the day went on, I realized that I had Liz's name but no contact information to send a proper thank you. Amazingly enough, I received an e-mail the next morning from Linda, Liz's mom, the creator of these beautiful "yarn hugs". She explained that she would love to create more of these for the children and all she would need is a donation of yarn!
That's it, no compensation, no favor? A beautiful human willing to help, not because she wanted anything in return, but because she could.
So when your mind goes to that place where you are discouraged and think that there is no good left in the world remember Linda, our "yarn hug angel".
If you would like to donate yarn to this amazing act of kindness, drop off a roll or two at the Cabarrus Partnership for Children's office at: 1307 South Cannon Blvd, Kannapolis, NC 28083.