Reach Out & Read
What is Reach Out and Read?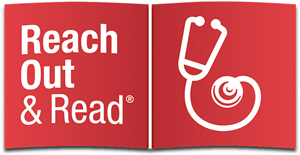 Reading aloud to young children stimulates language and cognitive skills and builds motivation, curiosity, and memory. Research also shows that the more words parents use when speaking to an 8-month-old infant, the greater the size of their child's vocabulary at age 3.
Reach Out and Read prepares Cabarrus County's youngest children for success in school by partnering with doctors who will prescribe books and encourage families to read together.
At each routine well-child visit, children will receive a new, culturally and developmentally appropriate book to take home and read with their parents. The medical provider will also discuss the importance of reading, model reading a book aloud to the child, and encourage parent-child interactions as part of pre-literacy and language development. Any child going to a participating clinic can qualify for the Reach Out and Read program.
WHO PROVIDES REACH OUT AND READ?
Cabarrus Partnership for Children works with medical providers in Cabarrus County and the surrounding communities. Our current providers include:
Cabarrus Family Medicine - Concord (in training)
Cabarrus Family Medicine - Harrisburg
Cabarrus Family Medicine - Kannapolis
Cabarrus Health Alliance
Cabarrus Pediatrics
Concord Children's Clinic
NH: Lakeside Primary Care - Brookdale
NH: Lakeside Primary Care - Speedway
Suburban Pediatrics - Kannapolis
Suburban Pediatrics - Renaissance
Weddington Internal Medicine & Pediatrics
DOWNLOADS
Reading Resources (by: Healthy Speech Solutions)
Get Involved!
Currently, this program is in need of additional funding for books so more children can be reached by this program. If you would like to donate or would like to know more about Reach Out and Read, contact Starla Hatley at 704-490-0976.
Save
Save
Save